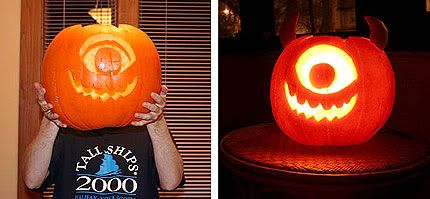 So, since perhaps the dawn of time no one has ever fingered me as Mr. Craftsmanship. Got a project that involves sculpting, mounting, cutting or outright delicacy?

Keep it away from Jeope

. I could design or illustrate decent work in college, but unfortunately part marks were always reserved for how well the piece was mounted. Blast.
But despite all my craftsmanship foibles, this past weekend I sucked it up and carved me a pumpkin. And to the best of my abilities, I made this fine specimen (above), intended to be Mike Wazowski from

Monsters, Inc

. I hadn't made a jack-o-lantern in about 15 years, so carving memories from pumpkins past all came racing back, ranging from "phew, this thing reeks" and "eww, this feels disgusting" to "I absolutely love stabbing things".
Doling out candy to kids on Halloween for the first time was a sweet experience. And when one asked me if my pumpkin was "that guy from

Monsters, Inc.

", it felt doubly good. An extra Kit-Kat for that sucka!