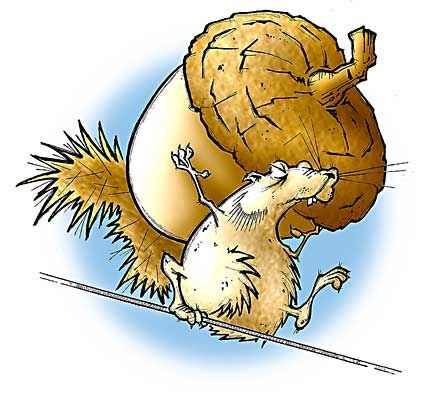 A rundown on how this Illustration Friday submission came to be:
Friday was a holiday here in Manitoba. Remembrance Day. So while at Vimy Ridge Park, keeping warm, waiting for the local Remembrance Day ceremony to begin, I asked Kerry what I might do to illustrate

strength

. Surely, given the surroundings and circumstances, I could come up with something inspiring, something of a tribute...
So how about a play on the famous sculpture of Atlas, with the weight of the world on his shoulders? And instead of Atlas, it's a squirrel carrying a giant nut?
And that's my thought process. As Forrest Gump would put it: "That's all I got to say about that".
I penciled it out in my sketchbook Friday afternoon. I'm not a very fluid cartoonist or caricature artist, so stuff like this gets drawn out quite carefully. Plenty of eraser action as I get body parts down just so. I pose, pretending to be the squirrel, to see how the hands and fingers should be positioned. Never drawn an acorn before, so I do an image search on Google. The acorn isn't working. I'm frustrated that I can't seem to draw an acorn. I begin to go over the squirrel's pencil-work in pen, doing my thicks and thins. There's mistakes that will have to be erased in Photoshop, so I mark them. After I finish the squirrel, I take a thin pen and sketch over the linework so it doesn't look totally rigid; it is a cartoon after all. I ink the basic outline of the acorn, but the perspective on the 'stem' is all screwed up. I draw a new stem on a separate piece of paper, scan it and add it to the finished linework digitally. I thought I might then post the line-art as is, a nice black-and-white piece of work. But I'm a sucker for the polish that digital colour provides, so...

voila

.
I call it

Squirrel Carrying Giant Nut

. Click here for a closer look. Hope you enjoy it. Have a great week, all.