The rollout of the fifth edition

HOWieZine

is officially upon us – a nice, pre-Christmas turn of events that gets the gift-receiving season off to an early start. This edition, themed

lost and found

, was especially nice for me as I was fortunate (unfortunate?) enough to volunteer myself for cover duty. And I spent a fair amount of time in the fall mulling over how I was gonna go about doing it all up.
I first thought about the concept of feeling emotionally or creatively lost and/or found – how it happens, what triggers it, etc. But I've never been too fond of dealing with heavy topicality and opted instead for a more light-hearted route. And the socks really are a gimme. So much so that I'm predicting now, without having seen the finished book, that there will be other pages featuring them. But the dual scenes – the front cover's lonely singles and the inside cover's happy mismatched pairs (above) – put a spin on the timeworn idea of finding the perfect match. Click here for nice big, fat, close look.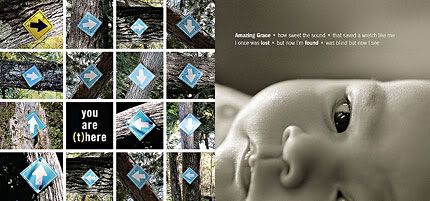 I filled out the back covers of the zine as well (above) with a pair of stand-alone ideas I had before I started drawing the socks. The inside back cover feature photos of trail markers from a hiking trip in the fall, twisted in a way to lead you on a circuitous route to the centered message. And the back cover I filled with a year-old photo of my niece Cadence, matched with the famous lyrics of Amazing Grace. Not a deep message, but one I thought more than suitable to finish of the end of the book. Clicky here for a closer look.
Let me know what you think. The next

HOWieZine

(theme:

superheroes

– this one's gonna be off the charts!) will get into gear in January.