Last week's vacation has been offically declared a hoot, and a culmination of several factors made it so. Start with my absolute favourite time of year, throw in one of my all-time favourite places to be since childhood, add fires, grey jays and smokie-dog cookouts and mix together with the sensation of being the only people for miles. It's bliss – and amazing that we didn't consider this sort of thing sooner.
Kerry and I are no strangers to visiting the Whiteshell, but have never made our excursions into anything more than day-trips (with the exception of a sole overnight stay two years ago for my birthday). So the prospect of staying there for nearly a week was exciting, since many more options open up when the (upwards of) four hours of travel time are cut from the equation. We made day-trips out of the two ends of the Mantario Trail, a gruelling multi-day hike through the heart of the park. The day from the south trailhead offered varied terrain, train-squashed pennies (a Whiteshell tradition of mine, I was bold enough to try a quarter this time) and fire-toasted turkey-tomato-avocado sammiches at Caribou Lake. The following day we took the hefty drive to the north trailhead for a hike along the shores of Big Whiteshell Lake where we encountered gusty winds, an abandoned 40s-era car reclaimed by the forest and a pair of shotgun-wielding grouse hunters ("so

yer

the ones scarin' all the chickens away.").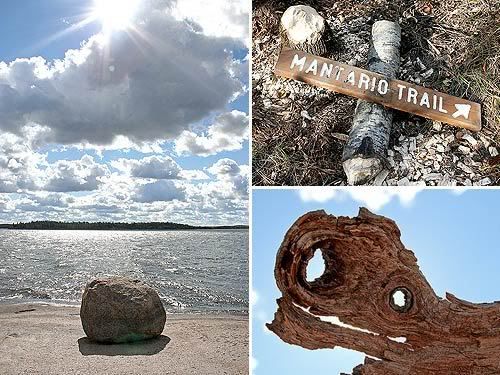 Top:

me and Kerry by firelight.

Above

(left to right)

: boulder on Big Whiteshell Lake; the beavers are clearly in charge on the Mantario trail; driftwood face.

Tuesday we drove deep into the park to visit a popular trail leading to Pine Point Rapids on the Whiteshell River. I can't recall offhand just how many times I'd done this hike since I was little, but this trip offered something I had never seen before in all my visits: no rapids – and no running water whatsoever. Neat in its own right, but a touch creepy, to be able to walk across silent and bare rock usually lost underneath fast-flowing water, fish and thrill-seeking innertubers. Any further creepiness was dissuaded by a local gray jay that could snatch peanuts straight from our hands. These birds, along with a fox, four eagles, about a hundred deer and a million idiot grouse, kept us company during the week when we were out pretty much alone in the woods.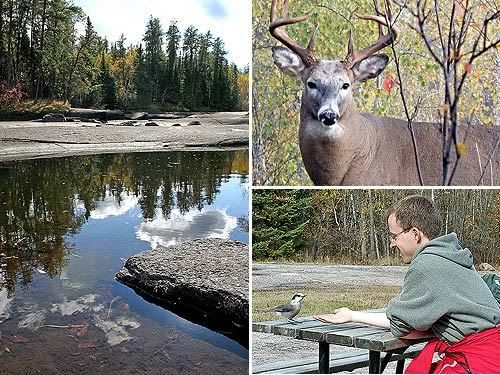 Above

(left to right)

: the falls are gone at Pine Point Rapids; staredown with a trophy buck; the gray jay does my bidding (photo by Kerry).

Even though the weather slowly turned sour as the week went along, we were never turned back by it. The following day we paid a visit to the Hunt Lake trail just down the road from where we were staying, and Thursday we split our time between the bland Cabin Lake trail and the short but scrappy MacGillivray Falls trail (again, no water though). On a thick-as-molasses foggy Thursday morning, I also crossed the road from our rental cabin into the empty neighbouring campground to view what I could of West Hawk Lake from atop a high granite outcrop. In the fog I nearly bumped into a giant (to me) and fearless white-tailed deer buck that I talked to gently in order to pass. For the record, I won't divulge what we talked about.
Above

: a foggy Thursday morning on West Hawk Lake.

Our cabin was a quaint and down-homey affair, and on a five-day, non-weekend, out-of-season rate, a fair deal considering the full kitchen, barbecue and satellite-TV/DVD setup that allowed us to keep up-to-date with

The Office

, rent movies and sneak peeks of old glories like

21 Jump Street, 90210

and

The Hilarious House of Frightenstein

.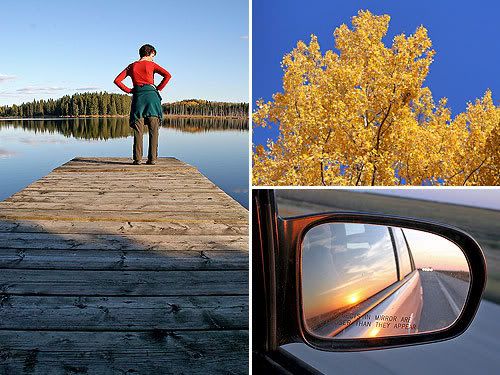 Above

(left to right)

: Kerry at Kinosao Lake in Riding Mountain National Park; fall leaves along the Ochre River trail (photo by Kerry); the road home.

This past weekend the scene shifted westward for a weekend stay in Riding Mountain National Park. Not quite the challenge for the hiking set, but gorgeous weather and some interesting sights (a bounding otter, trail-blocking moose and more bear scat than we'd prefer) made the short holiday addition fine in its own right. Sunday was quite possibly

the

day, that one fall day, that makes the season my favourite, despite its quickness and damning end.
Note:

I'll be posting a link to the complete vacation Flickr photo set when it's up and ready, prolly a couple of days.