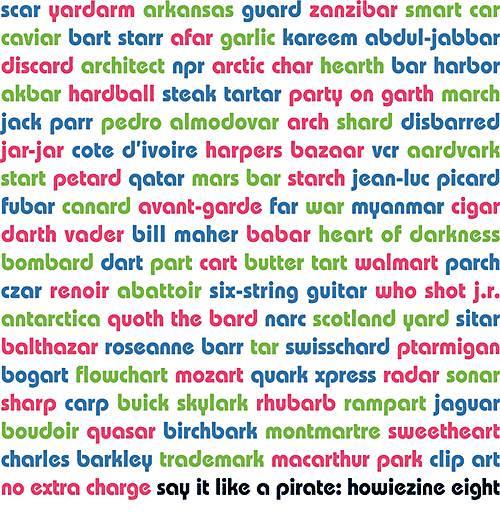 I'll be the first to admit that for the first time, I ran out of time with an edition of the

HOWieZine

. The current version, themed

pirates

, gave me a stellar opportunity to create an idea for a relevant illustration I've had in my head since high school (you heard right). And on the off-chance that I still realize it someday, I won't divulge on that little nugget any further. I know, nasty, right?

In the meantime, I made two quick pages – only one of which is on display here – that were still fun in the making. The first (not shown) used a scanned page out of one of Kerry's high school yearbooks, with each photo tagged overtop in pen with various hand-drawn pirate features (eye-patches all around, mustaches for the dudes, a few speak-bubbles and a parrot tossed in for good measure). Although I agreed not to use a page with anyone she knew closely, I'm withholding it here anyways out of respect for the embarassed – well, that and the fact I accidentally deleted the file off my hard-drive.

The second page (

above

) is a montage of words that any booty-loving pirate would love to say. Pretty simple, yeah, and Kerry and I had fun putting this list of words together. So let your inner buccaneer out and sample a few when nobody's watching.