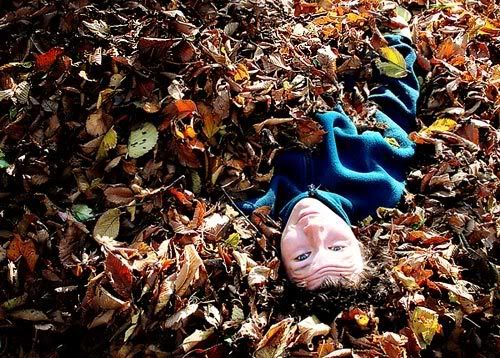 There's something about a big pile of leaves in the fall that can bring out the kid in just about anybody. We had a unique fall here; the weather came in a way that our boulevard trees dropped their entire load near all at once – 13 Glad-bags' worth in the front yard alone, which, for a brief moment was in the form of two giant piles. That was before the inner kids took over and dove in, reminding me of the

Calvin and Hobbes

strip where the "leaf monster" surprised Calvin mid-leap, only to be beaten to oblivion with the rake. This is the last known one of Kerry before the leaf monster struck our property, which I am submitting – in her honour, of course – to both PhotoFortnight for their apt theme of

autumn

, and for Photo Friday's current theme of

innocence

. And as is the case nowadays, more photos from the day – which also includes the evening's "Art & Soul" fundraiser soirée for/at the Winnipeg Art Gallery – can be seen over at my Flickr site.