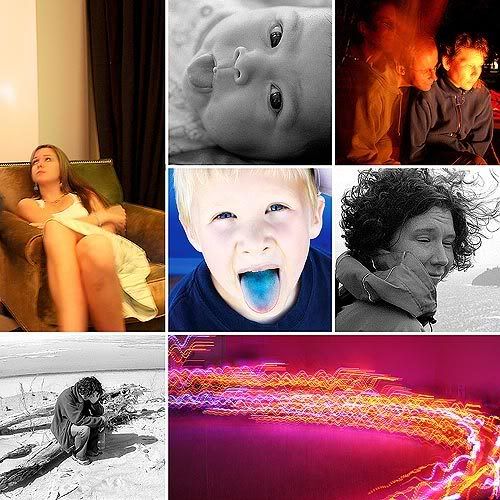 Photo Friday's current theme of

accidental

made me search through my collection of photos for those that turned out cool via fluke, accident and what-have-you. Some of these have appeared here before, and some highlight the theme more than others – but all of these images were not originally as intended. You can click here for a closer look at the grid of images.



Top left:

Michelle in the big, comfy chair at Melissa's Vegas wedding reception. Part of a larger image in which she was chatting with buddy Steve, it was originally meant to be a flash-on snapshot. The camera was on night mode, and with some creative cropping this is what I squeezed out of it.



Top center:

My niece Cadence at six weeks of age. We were conducting a black-and-white photo shoot and this shot captured her on the verge of a yawn. What I got was her tongue, in a classic stick-it-to-The-Man pose.



Top right:

Me and Kerry, fireside. A long-exposure shot, I thought I could sneak in quick enough not to show up on the final image. Looks like I was too slow.



Center:

Kerry's nephew showing off his ice-cream tongue. I honestly had no idea at the time that so much blue was being showcased.



Center right:

Kerry at the Cliffs of Moher in Ireland in a cool mood shot, September 2003. The wind grabbed control of her hair, but she also closed her eyes when the picture was taken.



Bottom left:

Kerry at Grand Beach, April 2005. Deceivingly downtrodden, she just had some sand in her eye.



Bottom right:

I was attempting to take a quick photo of my work's entry into a local parade, an adult tricycle towing three light-laden wheeled wooden ducks. But like the first picture here, the camera was set on a far-too-slow shutter speed. This abstract was the result.