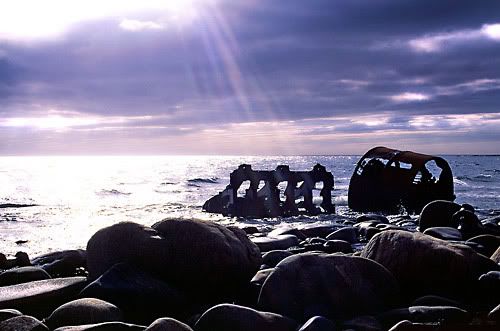 A photo from the vault to keep things flowing. I haven't been to Photo Friday for awhile to see what's up on that front. And their latest theme of

destruction

brought to mind the image above, which I took with my sister's borrowed camera on a 2002 visit to Gros Morne National Park in Newfoundland. It had been a lousy day of traveling mostly; plenty of that grim maritime rain they get 50 per cent of their time (it seems), and we stopped at a stony beach marked by scraps of the

S.S. Ethie

, a steamer that wrecked there in 1919 during a fierce storm. It was at this time, late in the day, that the sun decided to show, casting this cool purplish light over the ship's rusted metal remains.