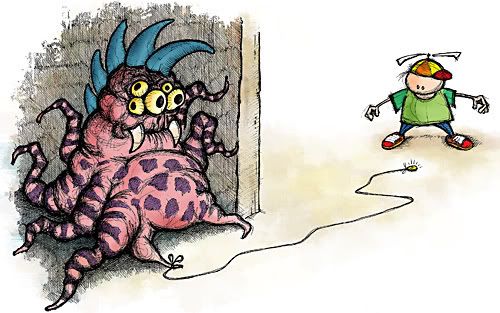 Don't pick up that coin, kid.
Lately I seem to have been in an outright sketchy mode when it comes to putting stuff here. Which is good. I have to remind myself to loosen up when I'm drawing, when more often than not I'm attempting to get lines and curves to mimic a technique bordering on vector-based.
Case in point, this little piece of storytelling here. For Illustration Friday's theme of

trouble

, I felt like drawing a monster – and then working from there. And for monsters there are no rules, and as such, nothing suited my monster more than making one as loose and as sketchy as I could. The kid and the coin were added afterwards as I molded my idea to suit the theme.
You'd think the bumps and jiggles of an eight-hour road trip would cater to this style I'm striving for, but I guess I'm not

that

loose. I tried, coming back from a Thanksgiving weekend in Saskatchewan, but I couldn't seem to get to that point where I could draw in the car. So instead, I spent a good chunk of Tuesday evening at home with this drawing, and finishing it over lunch on Wednesday. I spent a couple of hours Wednesday night fixing up any schmegs and adding colour. You can click here for a better look at some of the detail. Also, below is a look at what I had to work with before delving into Photoshop, as an example of how much cleanup I sometimes do digitally.