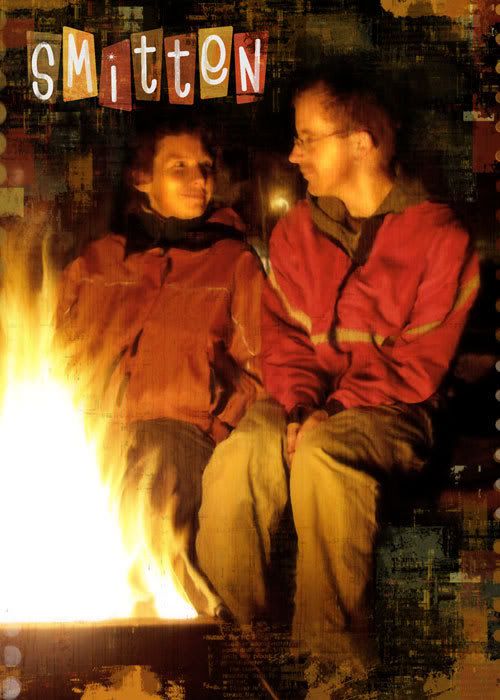 This week's Illustration Friday theme of

smitten

instantly reminded me of a photo I took not so long ago when Kerry and I were on vacation. Not one to be too squishily sentimental often, I thought I'd attempt to create a photo-based digital illustration much in the same manner that I did in my submission for I-F's early-summer theme of "portrait" (click here to jog memory, or to see again for first time) – which I had a lot of fun doing and wanted to try again.
Using the photo as a base layer in Photoshop, I first applied a slight median filter to eliminate some of the pixel details and night-shot noise. Then I took a whole whack of time with the smudge tool, pushing along the clothing folds, fire licks, etc., to mimic an oil-based, painterly style. I then subdued the picture's overall redness with hue and saturation shifts and upped the yellow content with Photoshop's yellow and sepia-toned photo filter presets. Following this, I inserted another photo – of wood-grain pattern – and tossed it in the mix, fading it back to add a bit of canvas texture. Overlying details were added last; the paint blotches and stains around the edges and the word itself, done with the freebie download font Klink-O-Mite (get it here). There's quite a few finer points and adjustments in the overall process too, that I'm either neglecting to mention or just plain forgetting.
You can click here to get a closer look at some of the detail, and here, to see the original photo and just how much – or little, depending on your point of view – alteration was actually done.